Introducing the Zentangle Method
The Zentangle Method is easy to learn, relaxing and fun. It increases focus and creativity. Although Zentangle creations appear complex, anyone can learn to create the simple patterns that are built one stroke at a time.
Zentangle is highly mobile. Pens, pencils, and paper can be take anywhere and used any time to create beautiful art that expresses your personal creativity.
Here are a few benefits of learning the Zentangle Method:
• Relaxation
• Inspiration
• Creativity stimulus
• Alleviating panic attacks
• Relieve stress
• Improve eye/hand coordination
• Increasing attention span and ability to concentrate
• Stretching & warm-up for artists

Come and try it for yourself. There is a charge of $15 for a small beginner kit if you want to participate in the program. Please bring cash or check payable to Mimi Topping. Reserve your kit by emailing odyssey5@ptd.net or calling Marti at 908-246-1231. Please reserve by July 14.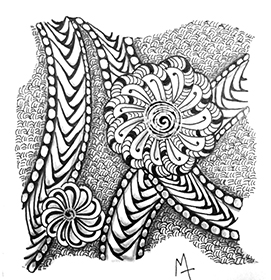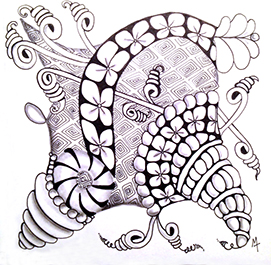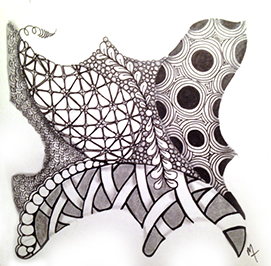 Mimi Topping is a Certified Zentangle Teacher. She got her certification in 2012. She was an art teacher in New Jersey for 18 years. She has been a therapist at a psychiatric hospital and chemical dependency rehabilitation center for 10 years. Mimi has conducted Zentangle workshops for Primary and middle school classes, faculty in-service days at Morristown Beard, Oak Knoll School and All Saints Episcopal Day School, the Center for Contemporary Arts in Bedminster, Mendham Historical Society, Solaris Whole Health and Ride & Reflect- Bedminster NJ. She was a presenter at Arts in Education Showcase at Drew University's Shakespeare Theatre and at NJAIS 2014, STEAM and the Liberty Science Center.