Loom Weaving Basics with Leslie Rogalski
April 20th, 7:00 P.M. via ZOOM
Join Leslie as she talks about loom weaving basics, shows samples of the Jewel Loom, along with other looms and shares examples of her finished work.
About Leslie
Leslie Rogalski is an artist, teacher, and media personality with a passion for creating beaded jewelry and more. She is a regular on Jewelry Television, a featured guest on the U.K. show Jewellery Maker, and has an online class for Craftsy called Five Essential Seed Bead Stitches.

Leslie appeared in the PBS TV series Beads, Baubles, and Jewels for many years. She continues to travel around the country to bead events spreading the joys of making jewelry in her current position as Creative Director for The BeadSmith, a global wholesaler of all things beady. Her designs and videos are offered on their beadsmith.com website.
The former editor of Step by Step Beads and BeadingDaily.com, Leslie's designs and articles have been widely published. Her best-selling DoodleBeads DVDs teach the top seed-bead techniques in a unique drawing-before-your-eyes method she uses in class, too.

By no means limiting her work to seed beads, Leslie's original jewelry designs have been published in Beadwork, Step by Step Beads, Creative Jewelry, Step by Step Wire Jewelry, 101 Wire Earrings, Easy Wire, Chain Style, and more.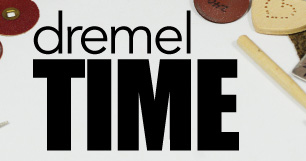 Dremel TIME with Linda Williams
Tuesday, May 18, 2021 • 7:00 p.m. via ZOOM
Join Linda as she discusses this easy-to-use versatile tool and it's accessories. The dremel is an inexpensive hardware tool that can be used to replace an expensive jewelers flex shaft for drilling, grinding, polishing and carving metal, gemstones, glass, wood, and shells.