If you loved Shrinky Dinks®, then you'll love this program with Marti Brown!
The Delaware Valley Bead Society (DVBS) will present Honey, I Shrank the Jewelry... Again on Tuesday, February 18, 2019, at 7pm in the Café of the Hunterdon County Senior Center, 4 Gauntt Place - Building #1, Flemington, NJ.
You won't want to miss this popular program.
Participants will use Shrinkets molds created by Julie Haymaker to transform flat shrink art into lightweight but durable – and unique! – components suitable for use in your jewelry. A fee of $10 covers the use of the shrink plastic, templates, colored pencils, markers, rubber stamps, ink and heat tools.
Guests must please pre-register. To pre-register use the form on our meetings page or call (908) 996-6930.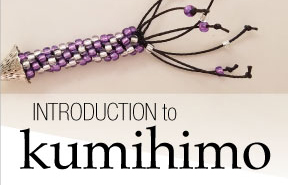 Tuesday, June 16th • Hunterdon County Senior Center
4 Gauntt Place - Building #1, Flemington, NJ
Introduction to Kumihimo with Pat Rinderle